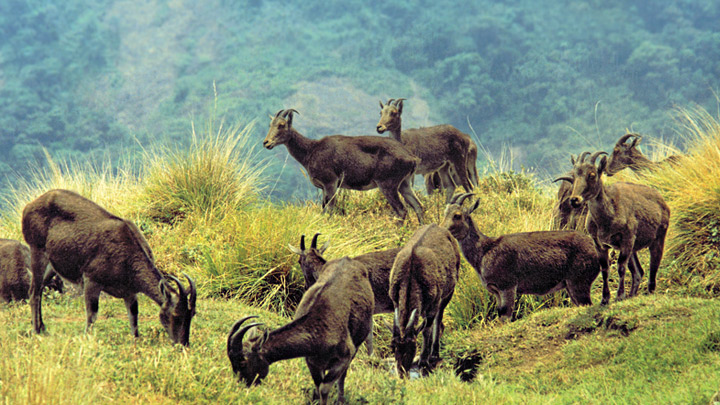 The Eravikulam National Park is located along the crest of western ghats in Idukki. It extends along 97 sq.kms of land and has the largest population of endangered (IUCN) Nilgiri Tahr (Hemitragus hylocrius). The Eravikulam National Park has an elevated plateau which is 2000 metres above sea level. The highest peak of the region, Anamudi (2690 m) is situated in the Eravikulam National Park.
The Eravikulam National Park is covered with grassland, shrubs and forest. Twenty six species of mammals have been recorded in this national park with an estimated population of 750 Nilgiri Tahr. Gaur, Indian Muntjac, Sambar Deer, Nilgiri langur, Indian Porcupine, Nilgiri Marten, small clawed otter and elephants are among other species spotted here.
The park has a rare collection of varieties of trees and shrubs. You can find here climax grasslands. The sight of variety of orchids is one of the specialties of this park. Apart from Nilgiri Tahr, one can find around 26 different species of mammals at this park. A number of elephants, langur and marten can be found here. About 120 species of birds like black and ornage flycatcher, Nilgiri pipit, Nilgiri wood pigeon, white bellied shortwing and Kerala laughing thrush can be spotted at Eravikulam National Park.
Eravikulam National Park has a tropical montane climate and the peaks experience heavy rainfall from June to August. The only road within the tourism zone of Eravikulam National Park passes through the southern extent towards Rajamallay tea estate. The national park is governed by the Department of Forest and Wildlife Government of Kerala.
Visiting Charges : Adults: Indian : INR 15/-
Foreigner : INR 200/-
Children : INR 5/- (Below 12 years)
Video/Movie Camera Charges : INR 2000/-
Ordinary Camera Charges : INR 25/-
Getting there
Nearest railway station: Aluva, about 109 km from Munnar; Angamali, about 108 km from Munnar.
Nearest airport: Madurai (Tamilnadu) about 142 km; Cochin International Airport, about 150 km.