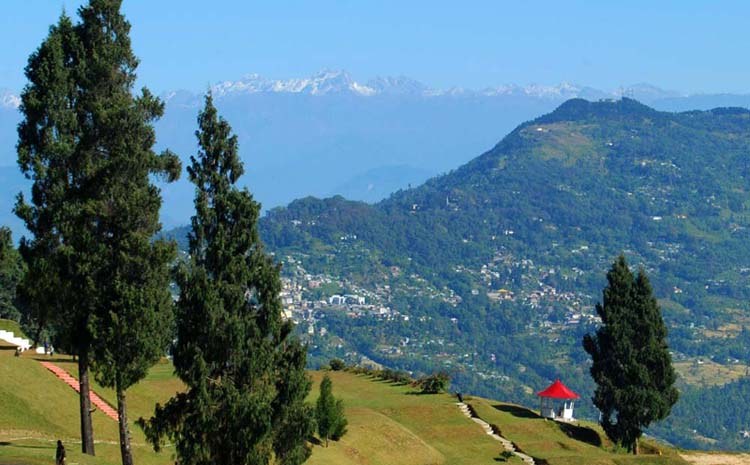 Surrounded by mountains, a small hill station Kalimpong is around 67 km from Siliguri. Kalimpong derived its name from 'Kalon' means King's minister and 'Pong' means the stockade. Thus, a stockade of the King's minister. Local people also pronounce it as 'Kalayboong' or the 'Black spur'. According to some Kalimpong derive its name from a tree Kahlyem-Kung (in Lepcha language). Kalimpong situated at an altitude of 1250 m. provide a great panoramic view of Himalayas. Being a historical town, kalimpong offers many places to visit like Deolo, Durbin dara, Dr. Graham,s Homes etc. The attraction of this place also includes monasteries, churches and temples. Kalimpong is famous for its indigenous arts and crafts. Kalimpong has developed good silk trading business with Tibet till 1950. Until the 18th century kalimpong was a part of Sikkim. It was then taken over by the Bhutanese. In the 19th century Kalimpong became a part of Darjeeling district.
Attractions in Kalimpong
Crockety, Kalimpong
Among the multiple excursions from Kalimpong, Crockety is a cottage which had been built in 18th century by the British wool traders. It is one of the splendid bungalows in the region and carries the British architect too. Its surroundings and design are enough to fascinate the visitors.
Galingka, Kalimpong
Galingka is another bungalow built in the period of British regime. It is located at the magnificent backdrop of the famous Kanchenjunga peak. The same British wool traders who shaped up Crockety constructed this chalet to stay during their trade voyage.
Samco Ropeway, Kalimpong
Samco Ropeway is about 1.5 km long located over the two rivers, Teesta and Relli respectively. It had been built by Christian missionaries to assist the Lepcha people.
Teesta Bazaar, Kalimpong
Teesta Bazaar is the main market of this region. It is also recognized as tenth mile among local citizens. Its popularity amid the places near Kalimpong can be guessed as it is named after the Teesta River. Number of hand-made items and artifacts add splendor to the bazaar. One can buy anything and everything in this marketplace.
How to get there
Air : The nearest airport is Bagdogra which is 80 kms from Kalimpong.
Train : The nearest railway stations are Siliguri Junction & New Jalpaiguri Railway Station.
Road : Kalimpong is connected to Darjeeling, Siliguri and Gangtok by road through buses, jeeps and private taxis.