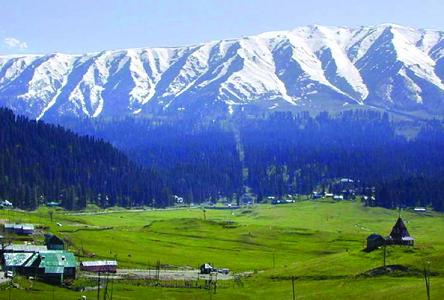 Khilanmarg All through the summer and well into the autumn, Gulmarg is a enticing attraction for golfers from all over the world. The world's highest, 18-hole green golf course is at Gulmarg. A highland meadow, just 4 km from Gulmarg, Khilanmarg is accessible by foot, by pony or in a dandi. From here, the view of the snow peaks and the limpid waters of the Wular Lake is a breathtaking one, unfolding view upon view of Himalayan splendour.
Khilanmarg is the country of snow. Once you reach Khilanmarg, you can see snow everywhere. Snow covered peaks of Nanga Parvat, Harimukh, GouriShankar, Trishul are all clearly visible from here. Even Jhelum, Dal Lake, Wular lake and Shakarachariya temple is also visible from here. You will feel at top of the world. Need less to say, with all probabilities, you would also be standing on snow. Just spending some quiet time at Khilenmarg will take away your entire journey lag, and will refresh your soul.
Khilanmarg is about 6kms from Gulmarg and can be reached on foot. You can also hire ponies for the same. But the best way is to take the ropeway or Gondola. Rope way will also give you wonderful views for the shutter happy.
The Fascinating Sights at Khilanmarg
Khilanmarg offers an unparalleled view of the great Himalayan range. The Apharwat peak leads to the Alpather Lake, a picturesque alpine lake that remains frozen until late June. For horse riding freaks, Alpather Lake makes an exciting day's excursion. Slightly lower than Gulmarg is the shrine of Baba Reshi (a Muslim mystic saint) visited by people of all faiths.
Arriving At Khilanmarg Via Gulmarg
Gulmarg is 52 km south-west of Srinagar on the north side of Pir Panjal.
By Roadways : J&K State Road Transport Corporation offers regular deluxe sightseeing and ordinary bus services from Srinagar. In winter it is only upto Tangmarg (13 km from Gulmarg), rest by jeep. The road journey from Srinagar is through picturesque rice fields and avenues of poplars.
Foot or Pony Ride : Just 4 km from Gulmarg, Khilanmarg is accessible by foot, by pony or in a dandi.